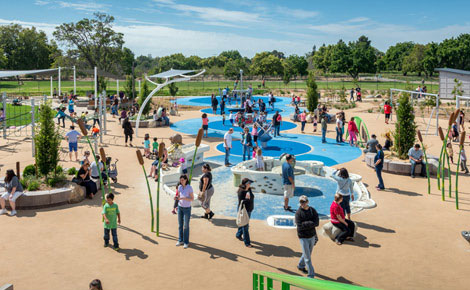 The Rotary PlayGarden won an ASLA Northern California Chapter Merit Award in the Parks, Recreation, Trails and Open Space category and the Rotary Club of San Jose celebrated it's first anniversary with over 175,000 visitors to date. The fully accessible PlayGarden, located on City of San Jose's Guadalupe River Park, is a first of its kind for San Jose and was funded by the Rotary Club of San Jose, designed by PGAdesign and constructed by Hensel Phelps Construction.
See Rotary PlayGarden project.
The video shows the process of the design which started as a vision of Rotarian Julie Matsushima, who, recognized that there was a disparity within extant play spaces that frequently lead to isolation for children with needs. She had a desire to see her twin granddaughters, Aimee and Chloe, play side-by-side, even though Aimee was born with cerebral palsy. It was her initial determination and connection as past president of the Rotary Club of San Jose, that began the drive to make the inclusive playground construction the focus of the Rotary Club's Centennial project.
The park's legacy includes hiring and training staff with special needs to help maintain the park. In addition, Santa Clara County Office of Education and San Andreas Regional Center will support programming at the facility for their clients.