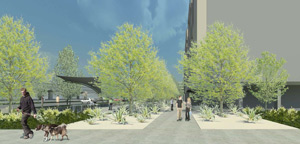 The 7.5 acre technology park is spearheaded by developer Westlake Urban and is a multi-phase project that will include three office buildings, a parking structure, and pedestrian connections to the adjacent San Leandro BART station. The project includes a much needed connecting section of the Bay Trail which is currently a disconnected trail through the adjacent BART station parking lot.
Once home to the Del Monte canning factory, the parcel is bound by two railway lines and has stood vacant for many years. The project's first tenant is local company OSIsoft, founded by technologist Patrick Kennedy and associated with "Lit San Leandro," the super-fast fiber-optic broadband loop touted to make connections 2000 times faster than typical internet hookups.
A 55-foot tall steel mesh statue named "Truth is Beauty" by artist Marco Cochrane and created originally for Burning Man festival has been integrated into the plaza and will be a focal point for the plaza.
CATEGORY: News